Top 7 Kid-Friendly Places to Visit in Accra, Ghana
Searching for the perfect family vacation spot filled with interactive fun? Discover why Accra, Ghana was voted Africa's 2nd most family-friendly city. As a parent who has explored Accra's hidden gems with my own kids, I'll unveil the 7 best child-approved attractions guaranteed to delight your little explorers.
From bustling bazaars to tranquil gardens, this guide covers can't-miss destinations like Bambo's Adventure Park, Bliss Family Entertainment, and more. It includes insider tips to spark curiosity and joy for kids of all ages.
Join me on an adventure through Ghana's vibrant capital overflowing with culture, beaches, gardens, and enrichment perfect for families. Get ready to make priceless memories together!
1. Bambo's Adventure Park
Our first stop on this unforgettable family adventure is the Bambo's Adventure Park, it is the ultimate destination for thrill-seekers and fun-lovers of all ages. You and your kids can enjoy these activities and have a blast.
When all those adventures work up an appetite, take a break to refuel with nutritious bites and refreshments at Bambo's on-site food court. With quick service and hearty meals, the whole family can recharge their energy. Bambo's offers customizable packages to suit any budget or group size. Choose a day pass for nonstop fun or a group pass to enjoy savings for larger families and parties.
The amenities and activities make Bambo's Adventure Park an unbeatable value. But instead of just taking our word for it, come experience the thrill for yourself! This lively playground promises your kids the vacation of a lifetime full of laughter and adventures to remember.
Here are some of the activities that you can try at Bambo's Adventure Park:
Lime and Spoon: A classic game that tests your balance and coordination. You have to walk with a lime on a spoon without dropping it. Can you beat your kids at this game?
Giant Word Search: A giant puzzle that challenges your vocabulary and spelling. You have to find the hidden words on a large board. Can you find them all before your kids do?
Connect 4 Replay: A strategic game that requires you to connect four discs of the same color in a row. You have to outsmart your opponent and block their moves. Can you win against your kids at this game?
Guide The Blind: A team-building game that fosters trust and communication. You have to guide your blindfolded partner through an obstacle course using only verbal instructions. Can you work together with your kids at this game?
Foot Dart: A combination of soccer and darts. You have to kick a Velcro ball at a giant dart board and score as many points as possible. Can you score more than your kids in this game?
Bubble Soccer: A hilarious game that involves wearing inflatable bubbles and bumping into each other. You have to try to score goals while avoiding being knocked over. Can you have more fun than your kids at this game?
Paintball: A thrilling game that involves shooting paintballs at your opponents. You have to hide behind barriers and avoid being hit. Can you survive longer than your kids at this game?
Bambo's Adventure Park is open from Monday to Sunday, from 10 a.m. to 10 p.m. You can book online or call ahead to reserve your spot and avoid disappointment.
2. Bliss Family Entertainment
This is one of Accra's happiest places that would offer memorable experiences for your kids with a 6-lane bowling alley, thrilling trampoline activities, and food and drinks to die for.
Bliss Family Entertainment also hosts a corporate bowling competition, BlissBowl&Bowl, which is part of their specially curated top-notch entertainment and sporting activities to bolster team bonding experiences. You can join this competition with your kids and show off your bowling skills and teamwork.
Bliss Family Entertainment is open from Monday to Sunday, from 10 a.m. to 10 p.m. You can book online or call ahead to reserve your spot and avoid disappointment. You can also choose from different packages that suit your budget and preferences, such as pay and play, play date, or birthday party.
It gets even better with fun, Bliss Family Entertainment is the perfect place to have a blast with your kids and make some new friends. You will not regret it, as you will have a memorable time with your family.
3. Splash & Play
Here is a fun and colorful site that features a water park with slides and spray features, as well as a dry playground. You and your kids can enjoy the water and the sun at this amazing place.
That's not even half of it, Splash & Play also gives you a chance to experience the Safari School, which is a preschool that offers a holistic and child-centered curriculum. You can learn more about their philosophy and approach, as well as their facilities and programs. You can also meet some of their teachers and students, who are always happy to welcome visitors.
Here are some tips on how to make the most of Splash & Play:
Fill out the participation and waiver form online or at the venue before accessing the water park, which is required for safety reasons. You can find the form on their website or at the reception desk.
Choose from different packages that suit your budget and preferences, such as a day pass or overnight stay. You can also get discounts if you book online or in advance.
Try some of the delicious dishes and snacks that are served at the restaurant, such as grilled fish, chicken kebabs, and coconut rice. You can also bring your own food and drinks, as long as they are not alcoholic or glass containers.
Watch the sunset and the stars from the beach, which is also a popular spot for weddings and parties. You can also join some of the events and activities that are organized by the resort, such as live music, bonfires, and games.
4. Papaye's playground
Papaye's Playground packs tons of family fun into one destination. Challenge your kids to a round of mini golf on their creative course, then take a spin on the mini train ride circling the beautiful grounds.
But there's more to it than that, Papaye's playground also offers some activities for kids, such as arts and crafts, storytelling, face painting, and balloon twisting. You can join these activities and let your kids express their creativity and imagination. You can also watch them have fun and make new friends.
Papaye's playground is open from Monday to Sunday, from 10 am to 6 pm. You can book online or call ahead to reserve your spot and avoid disappointment. You can also choose from different packages that suit your budget and preferences, such as a day pass or overnight stay.
You and your kids will have a lot of fun and education at Papaye's playground. It is a place where you can make unforgettable memories with your loved ones and find out more about Papaye Recreational Village, Ghana's eco-friendly resort.
5. Legon Botanical Gardens
Next up is the action-packed Legon Botanical Gardens, where kids can go wild exploring Ghana's abundant natural wonders.
Little adventurers will have a blast zip-lining over 300 exhilarating meters overlooking sprawling gardens. Families can paddle together in canoes to reach an island oasis with an awesome treehouse and suspension bridge. Rope courses winding through wooded areas allow kids to test their balance and bravery.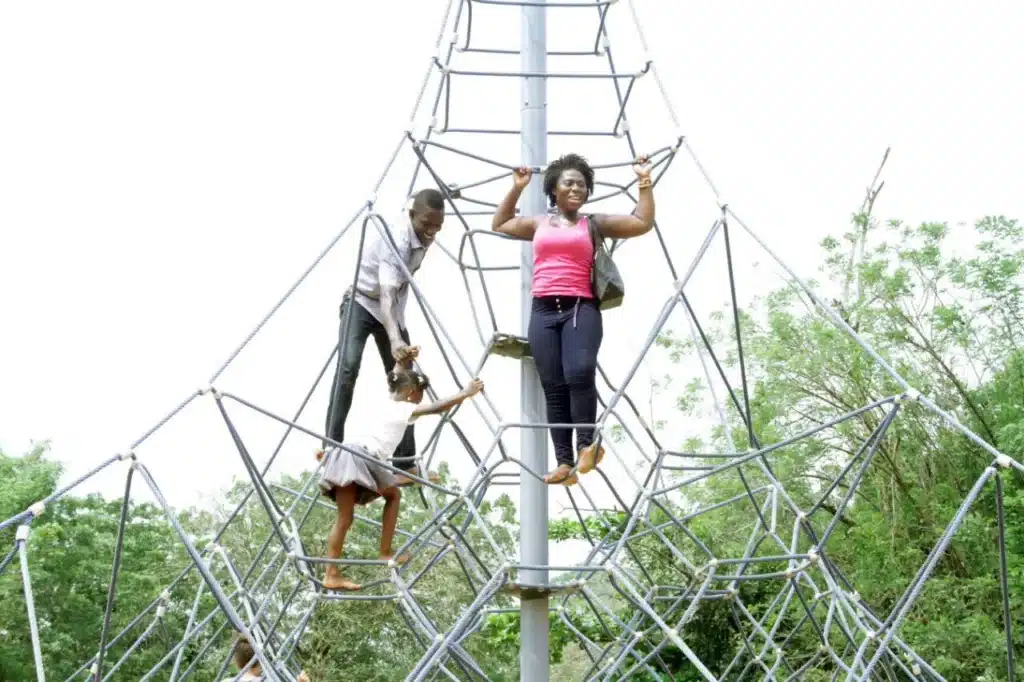 When it's time for a break, lush grassy areas and shady trees provide the perfect picnic spot. Kids can recharge while spotting adorable monkeys playing, exotic birds soaring overhead, and squirrels scampering through flower beds.
This outdoor playground, brimming with biodiversity, offers the ultimate environment for kids to learn about Ghana's ecosystems while making memories to last a lifetime. Your family will embark home with refreshed spirits after this revitalizing nature escape.
6. Marvels Mini Golf
Get ready for some family fun at Marvel Mini Golf, an imaginative 18-hole course with surprises around every bend.
Kids will be delighted by the colorful themes and creative obstacles at each hole, like navigating through Egyptian pyramids or around a pirate shipwreck. Families can tailor the challenge to their skill level and bond over friendly competition. Upbeat music and dazzling lights ensure nonstop entertainment.
When you need a break from putt-putt, the indoor arcade offers air hockey, foosball, and classic board games for all ages to enjoy. Special discounts and birthday party packages make this an ideal venue for celebrating your child's big day with up to 100 guests.
With rounds of mini golf, arcade play, and quality time together, Marvels Mini Golf is sure to provide hours of laughter and lifelong memories. This exciting attraction reminds families that the real treasure is spending precious moments with one another.
7. Children's Art Museum
At the Children's Art Museum, budding Picassos and Rembrandts can immerse themselves in creative expression. Interactive galleries showcase whimsical exhibits made by talented local children and young artists from around the world. Themes like family, nature, identity, and dreams illustrate kids' boundless imaginations.
Regular hands-on workshops allow children to experiment with materials and methods for sculpting, painting, drawing, and crafting their own masterpieces. An on-site library contains colorful books and magazines to spark artistic inspiration.
Here, children have the opportunity to proudly display their perspectives through art while appreciating cultural diversity. Families can provide feedback to support these inspiring young artists. A visit to this innovative museum fosters creativity, confidence, and community for children of all ages.
With interactive learning and endless delight for kids, these 7 destinations provide the perfect balance of fun and enrichment for families. From beaches to historical sites, Accra offers priceless memories waiting to be uncovered.
Join our community today! Subscribe to our newsletter and then book the most amazing tours, activities, events, and stays with Gold Coast XP for an unforgettable African experience that you'll treasure forever. Your family's next great adventure is waiting.